It's What to Wear Wednesday and today I'm talking about sunglasses and how to find the perfect pair of shades for your face. Picking out that perfect pair of sunglasses isn't always easy. You may put on a pair on and think, "These look really good," and then grab another pair and think the exact opposite. There is a reason why some sunglasses work and others do not and that's because there are frame shapes that will enhance your best facial features, and there are other frames that won't.
So, how do you know which sunglasses are right for you? First, you'll need to figure out whether your face is heart, round, oval, or square. Not sure which shape you have? Start by asking a friend, looking in the mirror, or taking a selfie and then listen to my tips today. Once you know your face shape, then you can begin to pick sunglasses that will best complement your features.
Starting with the Heart Shape Face: This means that the narrowest part of your face is at the jawline and the widest is your forehead. With a heart-shape face, you want your sunglasses to mimic the shape of your face which means they should be wider at the top and tapered at the bottom. This will help soften your chin and draw attention to your eyes. The best sunglasses for you are designs like the cat-eye or the aviator. But be sure to find a balance here, too. If your face has small, delicate features – you need minimal frames to avoid the bug-eye look. If you have more dramatic features, you can choose larger frames.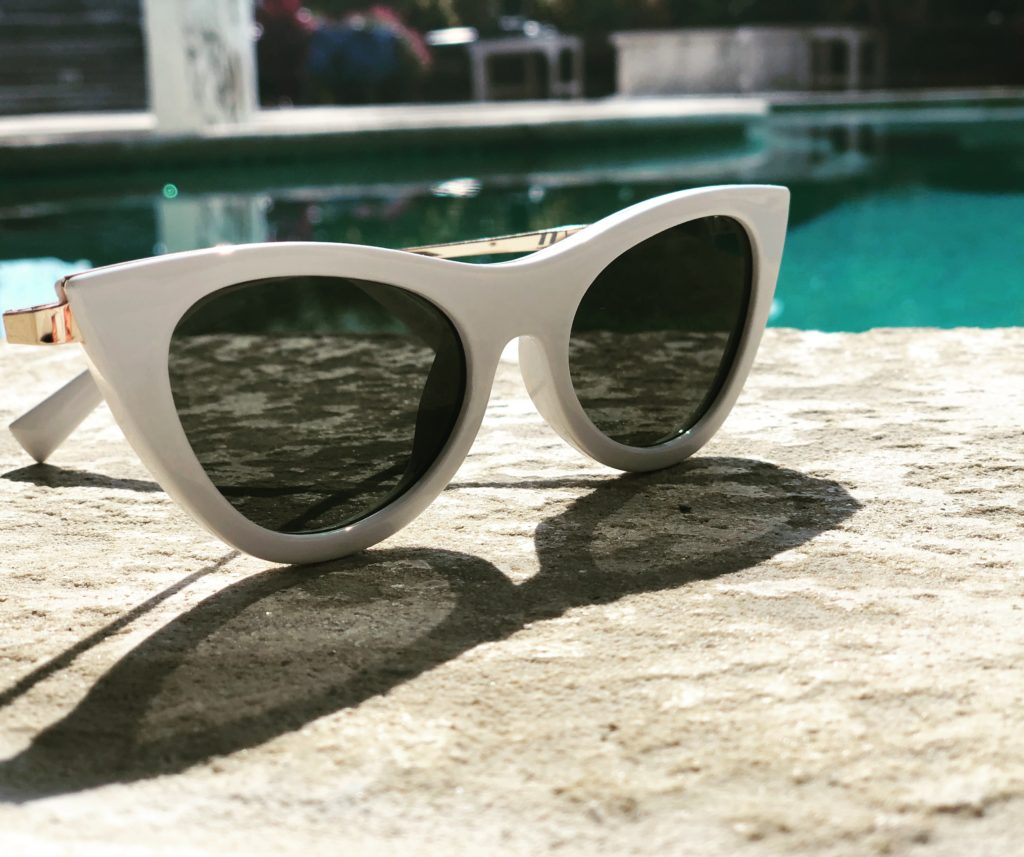 Next is a Round Face: A round face is widest at the cheekbones and more narrow at the forehead and jawline. So, the width and length are roughly the same. If you have a round face, you want to look for sunglasses that are angular – almost giving you faux cheekbones. The perfect sunglasses for you are: oversized, rectangular, square and angular frames like wayfarers. These will offset the roundness of your face. If you have a round face, avoid circular frames, especially smaller ones because these will make your face appear even more round.
Then we have the Oval Face: An oval face is longer than it is wide and is the most versatile face shape – meaning, and if you have an oval face, consider yourself lucky. You can pull off most style sunglasses. You can wear styles like the trendy cat eyes, classic wayfarers, aviators, round John Lennon glasses, and square frames. The most important rule for an oval face is to pay attention to the size and proportion of your features. Try not to go too big or too small for your face. For example, if you have smaller features, avoid the thick large frames as they will overwhelm your face. Also, watch the width of your sunglasses with an oval face. You don't want sunnies that are too wide – so, there shouldn't be a gap between the sides of your face and your sunglasses.
And, lastly, the Square Face: This face has a strong jaw, wide forehead and pronounced cheekbones. With this face shape, you want to balance and soften your face with sunglasses that are round. Like all face shapes, make sure your sunglasses are the right proportion. The larger your face, the larger the frames should be. Placement is also important. Unlike the oval face, those of you who have a square face should choose frames that extend past the widest part of your face. This will give a rounder silhouette to your face.
Thank you for listening to today's style tips. For the full video, please click here: Alexandra Styles.  Please feel free to leave me a comment with questions, or just because you have something you want to share. I'll see you next Wednesday!
xo,
Alexandra