It's What to Wear Wednesday and today is all about the Strawberry Body Shape. During this series, I've talked about What to Wear and What Not to Wear in order to flatter 4 of the 5 main body shapes: the Pear/Triangle, the Banana/Rectangle, the Hourglass, and the Apple/Oval. Today, I'm going to get more in depth with the 5th and final shape in this series, which is – you guessed it – the Strawberry or the Inverted Triangle body shape.
Remember, if you are a Strawberry body shape then you have square shoulders which are wider than your hips; you have a large bust, you have little definition in your waist, narrow hips, and fabulous legs. The goal with this body shape is to slim down your upper half, enhance your waistline, and bring focus to your lower half.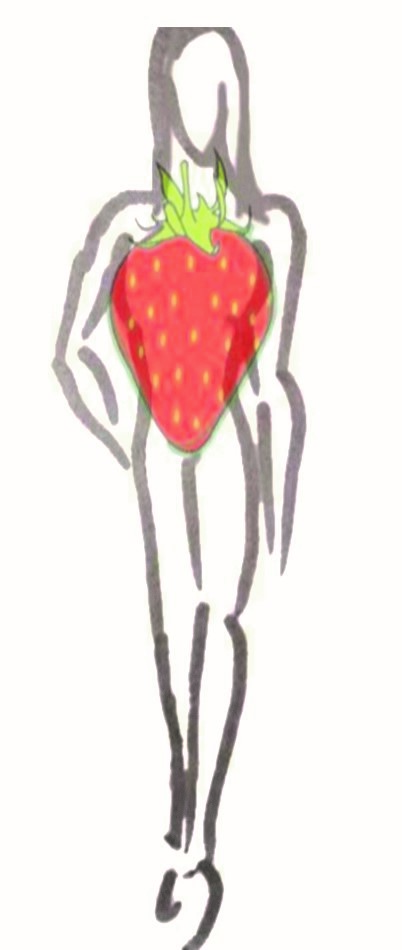 So, let's start with the most flattering top styles to wear:
Tops with some type of structure to them will be most flattering for you. Also, balance your figure by wearing a darker color on the top and a lighter color on the bottom to bring that focus to your lower half. By "darker," I don't mean that you should wear black, I simply mean that your top half should be one shade (or more) darker than your lower half.
For neck styles, look for V-necks, deep U-necks, square necklines and sweetheart necklines. Similar to the Apple shape, Empire and Wrap tops and dresses are very flattering for your figure.
You want to avoid wide scoop and wide square necklines as well as boatneck tops. You also want to stay away from horizontal stripes, small prints, cap sleeves, shoulder-pads (yes, they are making a come-back from the 80's), puffy sleeves, and tops that are embellished around the shoulders.
Your best accessory for the Strawberry Shape is a belt. Using some interesting belts that have width can really enhance and draw attention to the hips. This will create an illusion of curvature and add definition to these areas. Belted tops and jackets will create a similar effect.
The Strawberry Shape person has outstanding legs, so bring the focus to them! A-Line and flared skirts and dresses are your best friends, as they enhance the hips and make you look proportional – balancing your upper and lower halves while showing your great legs.
A flared pant, such as a bootcut, hugs your legs and kicks out near your shoe, again, creating that balance, making this pant style the most flattering for the Strawberry Shape. Also, look for embellished pants and pants with pockets. Do avoid really fitted bottoms such as skinny jeans and pencil skirts as anything too fitted with throw that proportion between your upper and lower halves.
If you would like more information about dressing the Strawberry Shape, or want to watch the video, click here: Alexandra Styles. Otherwise, please leave me a note below or feel free to message me directly.
xo,
Alexandra