Velvet is a fabrication that has gone in and out of style for many years.  This is fashion and what is old is new, again. We've seen signs of this major trend since 2016 but now there is more of it – in every form and color way.  So, for those of you who remember velvet in the 70's and then, again, in the 90's – it's totally back.  If you loved velvet then, you are in luck!  And if you didn't like it, it's your opportunity to give it another chance.
Velvet is actually the structure of the fabric, not the fiber like cotton or wool.  It's a woven textile traditionally made of silk but today it's fabricated from a variety of different fibers which allows for the various textures and sheen as well as the variation of price points.
Velvet was one synonymous with holiday dresses.  And, although you can wear velvet during the holidays, it can and should be worn for any occasion – both formal and casual. 
Here are some tips on pulling velvet into your wardrobe:
1.        Try incorporating velvet into your everyday look.  You can do this by adding in velvet as an accessory like a handbag or even a sneaker.  Here is a look by Madewell.
 
2.       Add in velvet to spice up some of your closet staples.  Try a velvet blazer with a t-shirt and jeans.  Or pair a velvet skirt with a tank top and denim jacket. Or layer is with a turtleneck and a moto jacket as seen here.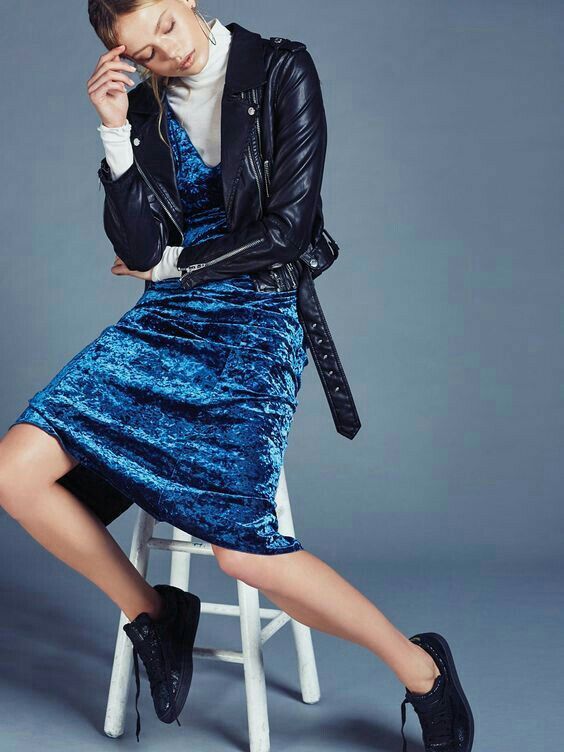 3.       Try adding in colored velvet.  Black velvet is always a safe option but try adding a jewel tone velvet item or a muted tone velvet piece into your wardrobe.  You can start by adding an accessory such as a handbag or as a great pair of heels.
 
4.       Finding a balance with your velvet items is also important.  Velvet has a "heavier" feel to it, so pair your velvet article of clothing with a more delicate fabric such as silk, as shown here, or a satin or lace top could also balance these velvet pants.
 
If you have questions about incorporating velvet into your winter wardrobe, please leave me a comment below.  And, for the full video, please click here: Alexandra Styles.  Until next Wednesday…
xo,
Alexandra