Between spring break, the warmer weather and summer well on its way – we find ourselves in, ugh, bathing suit season.  Most of us hear the words, "bathing suits" and the anxiety starts to set in.   The difficulties start with weeding through which swim suit to wear and then the dread of trying them on kicks in.  So, today, I'm going to talk about which swim suits and cover-ups will best flatter your figure – starting with, you may have guessed it, the Pear Shape.
Keep in mind that while I discuss flattering swim styles throughout this series, choosing a bikini or a one-piece is totally up to your personal preference and your comfort level of showing your stomach.  Luckily for all of us, there are so many fabulous swim suits available today both in bikini and one-piece styles.  So, you now know that a Pear Shape is curvy at the hips and thighs and smaller on top. The key to the perfect swimsuit is balancing your proportions and getting the coverage you need for your bottom half…but the secret is, you don't want too much coverage.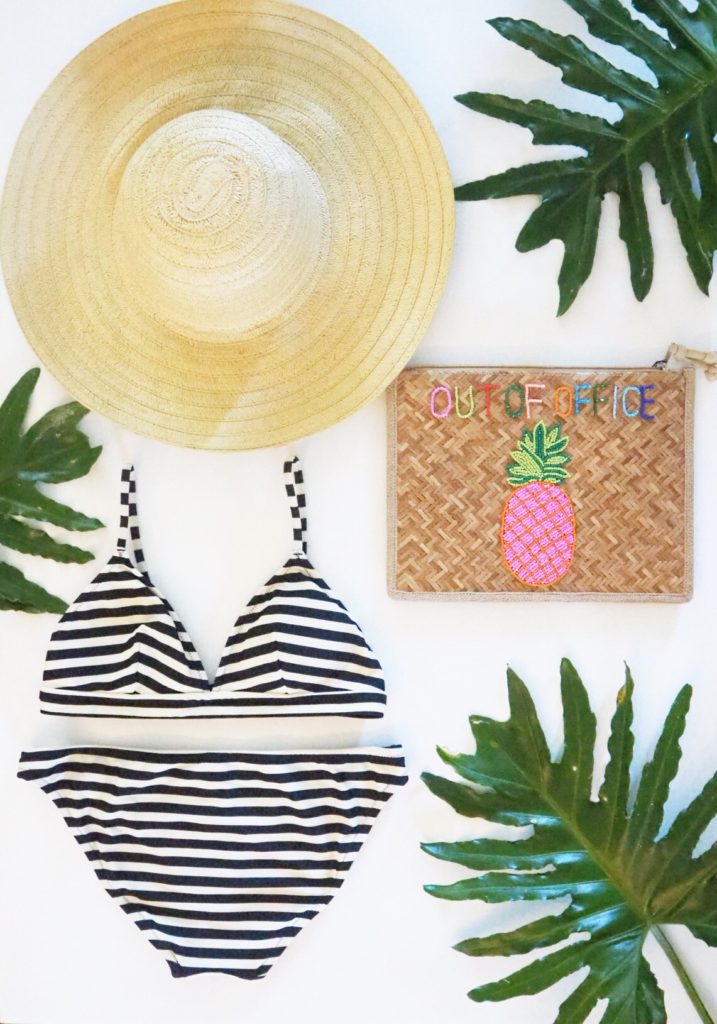 Go for a bathing suit that has a plunging neckline to draw the eye upward. Any type of ruffle, print, pattern or detail on the top half of your swim suit will be flattering for your body shape. Or go for something untraditional like an off the shoulder strap.
For bottoms, go for a higher cut on the leg, a mid-rise on the front and mid-coverage cut on the back. Too much coverage on your lower half with draw the eye downward and will emphasize that area. So, avoid boy shorts, thick-banded bottoms as well as the extreme opposite such as string bikinis. Also, keep the coverage of your swimsuit across your rear in mind. Too much coverage as well as too little coverage will emphasize your bottom. Mid-coverage is just right.
Now that you can picture the perfect style swimsuit for your figure, you need a great cover-up to get you to-and-from your sunbathing spot. The most flattering cover-ups for the Pear Figure can be sleeveless if it has a center line. Otherwise, it should have some kind of sleeve whether it be a cap, short, elbow length, or long sleeve. If your cover-up is a romper or a dress, it should finish below the widest part of your thigh. You will look great in a loose-fitting cover-up or one that cinches at the waist. Finally, avoid detailing like embroidery, patterns or tassels that are just on the lower half of the piece. If the detailing or pattern is all over, it will look great.
Link here for the full video. If you're still wondering which swim styles will be most flattering for your Pear Shape, please feel free to leave me a message below.  I'll see you next Wednesday.
Xo,
Alexandra